You want 5% more?
Hi members,

Publish your payout screen in our official theme and get an additional 5% on your next payout.

Wjunction.com - ImgBaron.com official thread

It has to be a picture, not just write "Thank you".
Only through the picture can we determine who it is so we know who to allocate 5% at the next payment.
You may hide your account or part of the payment amount, but some details of the transaction must be visible.

Example :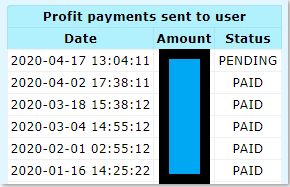 Important : If you want a 5% bonus on each payment you must post new proof on the forum after each payment.

Good luck

PicBaron Team


scubaprojapan January 25, 2019 at 05:51:45 PM
%5 hmmm
must be a joke or something
2$ %5 : 10cents
you can do better
give 0.30 to 0.50 to users who share it on wj
thanks
Comment on this

DMCA e-mail : dmca@imgbaron.com
© ImgBaron.com 2018-2021.